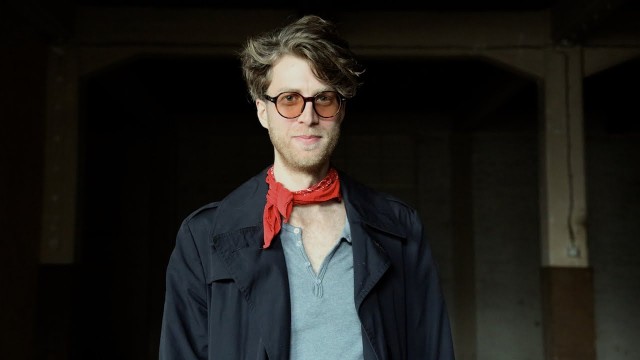 Geoffrey Lillemon
Amsterdam, The Netherlands
Geoffrey Lillemon (1981 USA/Netherlands) works with digital media on various platforms and projects which connects technical innovation with romantic tragedy.
His web applications and virtual reality environments are aesthetic and communicatively too dark for the mainstream digital domain. This recurring theme in his work is clearly visible: Geoffrey combines high tech with the macabre side of romance and criticizes its aesthetic reference pool with our constant debate about taste and bad taste, decency and indecency, high culture and mainstream superficiality.
As Geoffrey Lillemon is a sort of all-eater who alternates his technical approach as a chameleon, putting his hands in the mediums of website, film, social media bombardment, oil painting and live performance.
He is thus almost the widest transmedia artist of the moment, although its base is clearly in the digital arts. He also impacted the mainstream culture: his inimitable animations for the art IT crowd have equally been used as backdrops for pop acts such as Miley Cyrus and Nicki Minaj.
But paramount to this, even in pop adventures, the content remains unchanged and true to itself. The LED screens may be of monstrous dimensions, with music that will be presented to an audience of teenage fans, but for Geoffrey Lillemon this pop art medium is just a bigger stage to bring digital arts to a wider audience. An infiltration of the mainstream art world, as it were. And where the mainstream world takes root in experiment, as in fashion, fantasy and reality come together maybe even for better.
The American media artist and designer Geoffrey Lillemon has worked and lived in Amsterdam for several years. Until recent, he was part of the duo Champagne Valentine together with Anita Fontaine. They used animation experiments to play with visual logic, fashion, internet culture and the trash subculture. They worked for Diesel, Blend, Edun, Napster and Tate Modern. Since then Geoffrey started a VFX studio (Geoffrey Lillemon Studio) to support his directing work focusing on redefining the aesthetics of the pop industry (Miley Cyrus, Nicki Minaj, MGMT) and cult fashion (Bernard Wilhelm, Iris Van Herpen) accompanied by a strong focus and output in digital media arts that have been included in The Boijmans Museum, MOTI, Centre Pompidou, and Museo Tamayo that looks up the boundaries of animation and erotica/pornography in animation..
Geoffrey's approach uses western image language that asks questions full of fantasy which use lyrical animation to investigate the boundaries of popular visual imagery. In this, he is experimenting with new techniques and choices like looping art and virtual reality. Such as a game environment where in the spectator is moving through a created world called the Nail Polish Inferno. He has spoken and participated at many international design festivals over the last 12 years focusing on new media crossovers, web art, and innovative applications of visual design with festivals and events like FITC, OFFF, TinaB, ISEA (TUR), Film + Design Festival (NL), Dutch Design Week (NL), NODE Biennale (GER), Pictoplasma (GER). He has been commissioned to produce interactive, video, animation and design for international content providers such as Submarine (NL), Rhizome (USA), Dazed Digital (UK), i-D Magazine (UK), SHOWstudio (UK), V Magazine (USA) and The Creators Project (USA) Press attention to previous projects includes Creative Applications (UK), The Creators Project (USA), It's Nice That (UK), Vogue Paris (FR), Animal (USA), Dazed Digital and Dazed & Confused (UK), i-D (UK), BOOOOOOOM (FR), Portable
---