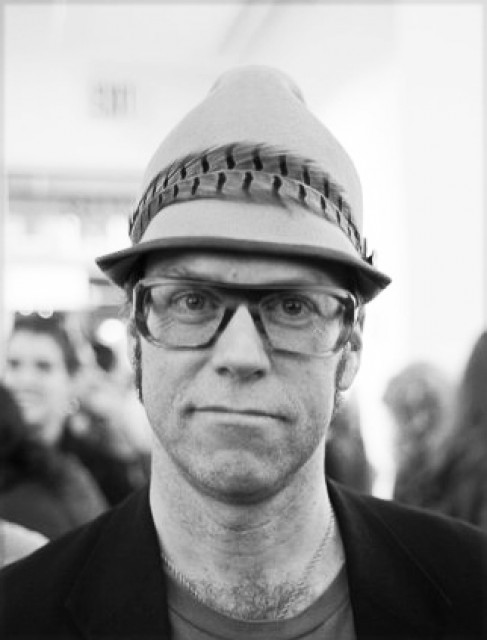 John Jacobsmeyer
New York, USA
Jacobsmeyer earned his BFA from the University of New Hampshire and has an MFA in painting and printmaking from Yale University. He has taught and given lectures at universities all over the world, including Shanghai, and has had global artist residencies too.
Drawing from videogames and American gaming culture, his oil paintings on aluminium and the rendering of wooden textures within his art are symptomatic of Jacobsmeyer's inspiration. He explains in an interview with Juxtapoz that he grew up 'making clubhouses from scrap plywood salvaged from construction sites' and that when he discovered painting woodgrain he realised 'wooden structures, especially ones made of plywood, were everywhere in [his] life.' The juxtaposition between the intensely realistic representation of wood and the virtual world that contains it is what makes his work so fascinating.
---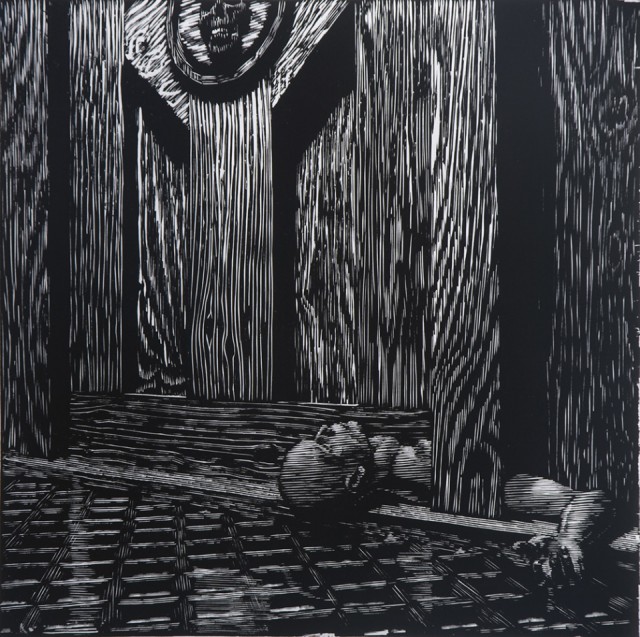 Wasteland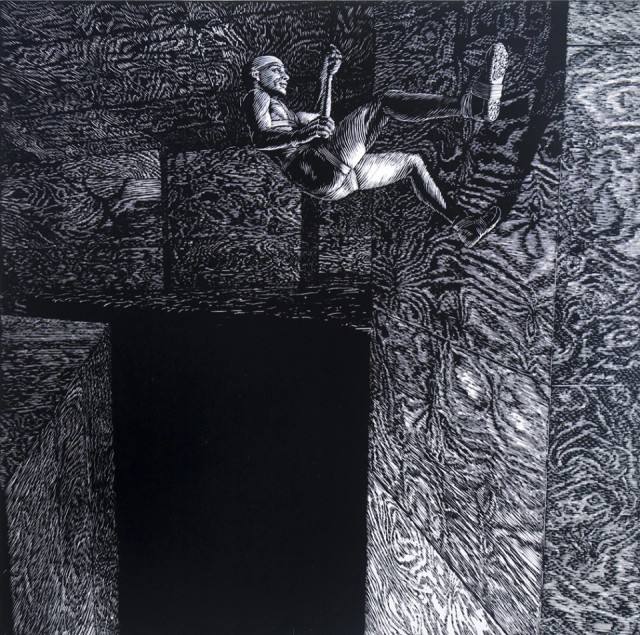 Black Cascade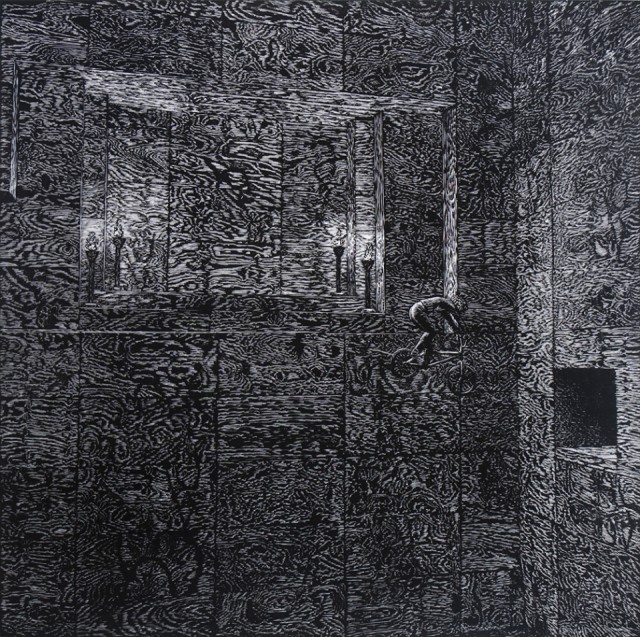 Alligator Pit
Future is Present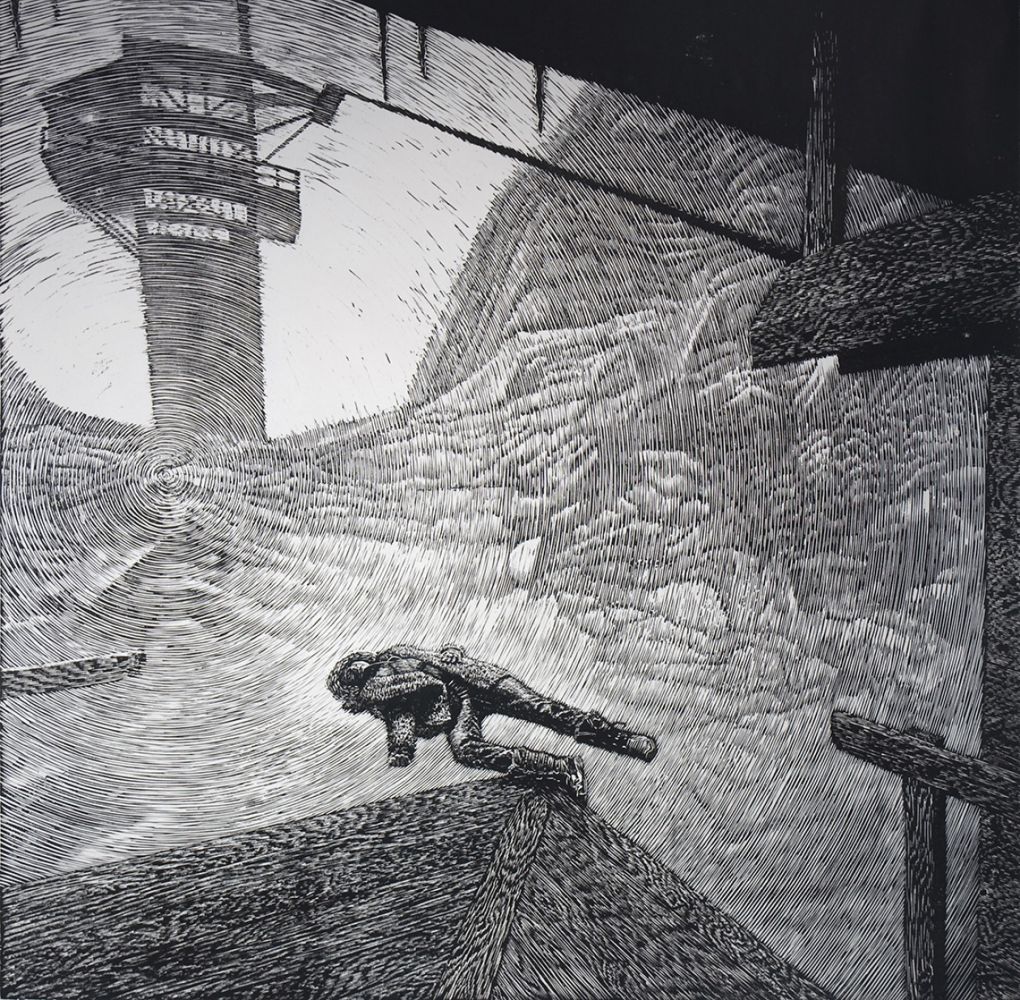 Taken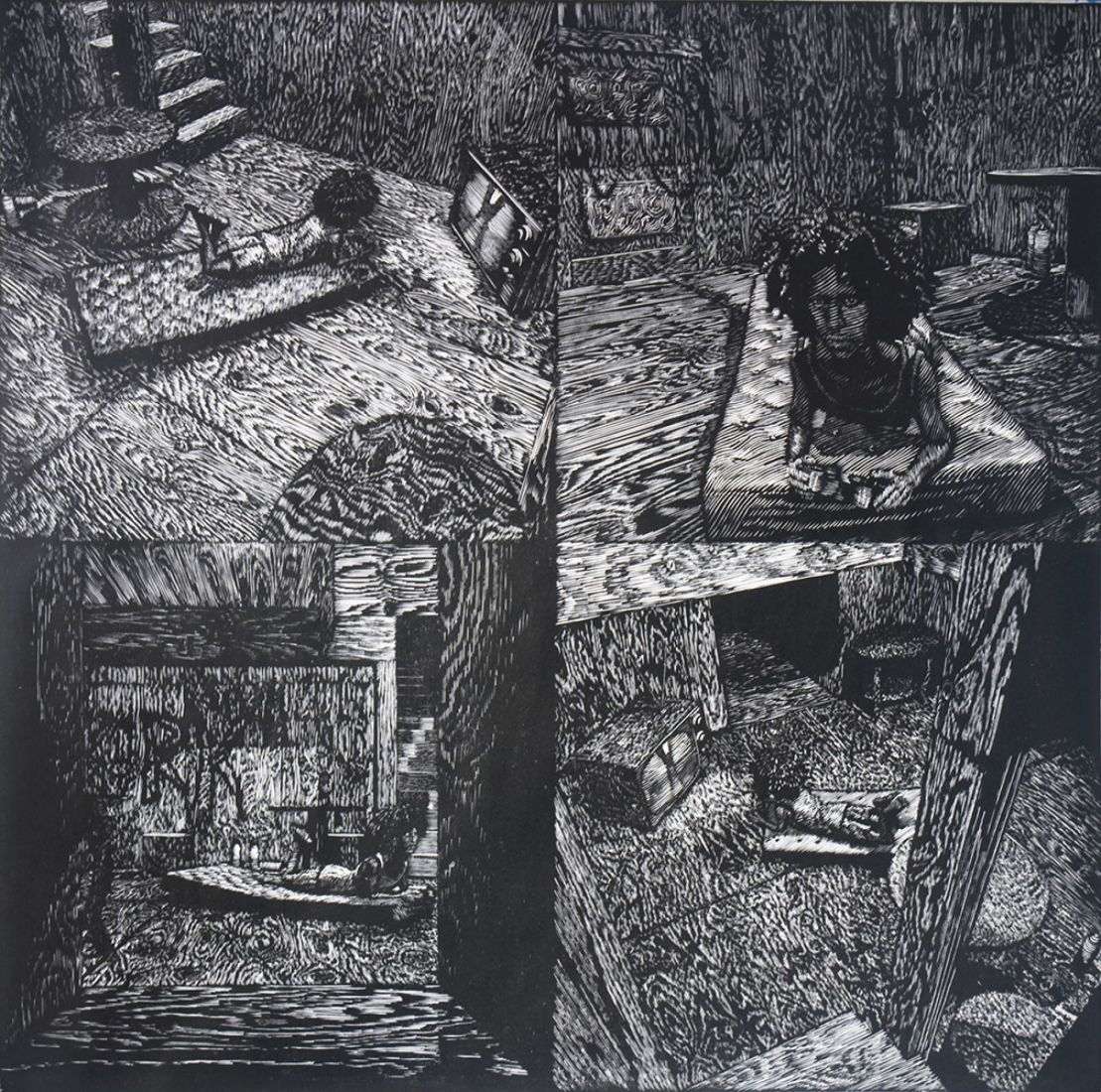 John Jacob-Jingle-Heimer-Schmidt
BORN
in USA
EDUCATION
1989
MFA, Painting & Printmaking, Yale University School of Art, New Haven, CT
1986
BFA, Painting, University of New Hampshire, Durham, New Hampshire
SOLO EXHIBITIONS
2018
Great Feats and Defeats, Jonathan Levin Projects, NJ, USA
2014
More Than Human, New York Center for Book Arts, NYC, USA
More Than Human, Davidson Galleries, Seattle, WA, USA
2008
Prometheus Incubus, Memorial Gallery Farmingdale State University, Farmingdale, NY, USA
2006
What Ban on Human-Animal Hybrids?, Pratt Institute Printmaking Gallery, Brooklyn, USA
2005
Superhero Lonely Jack the Pelican Presents, Williamsburg, Brooklyn
2004
Grandiosities (two person), Fraser Gallery, Georgetown, DC
2003
Accurate Deceptions and Other Optical Illusions, Karl Drerup Art Gallery Plymouth State College, NH
2002
Orphans, Pastures and History, Fraser Gallery, Bethesda,MD
Impossible Patrimonies, The New York Academy Gallery, NYC
2000
Sleepwalking with G.I., Joe Fraser Gallery, Washington, D.C.
1999
Saints and Survivalists, Anchor Graphics, Chicago
1998
Frontier Fever, Kougeas Gallery, Boston, Massachusetts
1993
Paradossi In-Naturali: Recent Works by John Jacobsmeyer, Ex-ministry of Agriculture, Florence, Italy
1990
John Jacobsmeyer: Recent Works, William Halsey Gallery, College of Charleston, Charleston, South Carolina
GROUP EXHIBITIONS
2014
Unbound: Contemporary Woodcut Prints, Ming Yuan Art Museum, Shanghai
Formative Impressions KCPA International Printmaking Exhibition- 8 Pacific Nations (traveling show), Jincheong Printmaking Museum, South Korea/ Seoul Museum of Art, Seoul/ NYAA Summer Exhibition Flowers Gallery, NYC
Object/Abject the figure in contemporary printmaking (traveling show), Academy of Art University, San Francisco/ New York Academy of Art, NYC
2013
I Love New Dork Bunnycutlet Gallery, Williamsburg, Brooklyn
Into the Vortex, Lesley Heller Workspace, NYC
Single Fare, 3 RH Gallery, NYC
2012
Works, Shanghai World Financial Center, Shanghai, China
Mutual Interests, Gallery 99, Shanghai, China
Prints Alive, Coney Island Museum, Brooklyn, NY
After School Special, New York Academy of Art
Toylander Noyes Museum of Art, Stockton State College, NJ
2011
b-sides, York College Art Gallery,Jamaica, NY
Space Invaders, Rose Contemporary, Portland, ME
I Have a Secret, Forbes Gallery, NYC
Uncovered, Janes Gallery, St. Bart, France
Return of The Outlaw Printmakers, Phillip Slein Fine Art, St. Louis MO
A Desert in the Ocean, Leslie Heller Gallery, NYC
Single Fare 2: Please Swipe Again, Alix Sloan Fine Art, NYC
2010
Remnants Fuse Gallery, NYC
Nice to meet you Sloan Fine Art
2009
Reconfigured and Relocated DFN Gallery, NYC
American Dream, Jack the Pelican Presents, Brooklyn, NY
Legendary Crest Hardware Exhibition Williamsburg, Brooklyn
Intimate Frontiers Stockton College Art Gallery, Stockton, NJ
Boston Printmakers North American Print Biennial 2009 808 Gallery Boston University
private (dis)play COCA, Saint Louis, MO; Emerson Gallery, Hamilton College, Clinton, NY
Old School Jack the Pelican Presents
Broad Shoulders and Brotherly Love Hyde Park Art Center, Chicago
Dangerous Women DFN Gallery, NYC
Wet DFN Gallery, NYC
Keeping it Real curated by Jerry Kearns, Western Michigan State University, Michigan
2006
Salon 2006 New York Academy of Art, NYC
Scope NYC Jack the Pelican Presents Gallery
The Woods DFN Gallery, NYC
2005
Animal Tales DFN Gallery, NYC
Art Chicago Jack the Pelican Presents, Chicago, IL
MiArtX International Modern and Contemporary Art Fair, Milan, Italy
Scope Hamptons, Jack the Pelican Presents, Southhampton, NY
2004
Scope Chelsea Jack the Pelican Presents, New York City
Scope Miami Jack the Pelican Presents, Miami, FL
Invitational Exhibition & Auction Momenta Gallery Brooklyn and White Columns, NYC
Prints of the Year, Franklin Pierce College, Concord ,NH
Faculty Review, New York Academy of Art, New York, NY
2003
Prints Only, Fraser Gallery, Wash., DC
Printworks 2002 , Seattle Arts Commission, Key Tower Gallery,Seattle
Vision and Mark-Making, New England College Gallery, Henniker, NH
2000
Muka 366/2000 Auckland, New Zealand(traveling show)
1999
Drawing and Printmaking: A Dialog Fort Point Gallery, Boston
Flesh In-Action Fort Point Gallery, Boston
The Patrimony Corrupted University Art Galleries, Wright State University, Dayton, Ohio
1996
Allegory and Identity Visceglia Art Center, Caldwell College, New Jersey
Genius Loci: A Sense of Place traveling exhibition: Prallsville Mill, Stockton, New Jersey,
Baxter Gallery, Maine College of Art, Portland, Maine
1994
New England/New Talent Fitchburg Art Museum, Fitchburg, Massachusetts
Fantastically Real Mills Gallery, Boston Center for the Arts, Boston, Massachusetts
1991
The Eternal Male: Ares and Pluto Sherry French Gallery, New York, New York
Intimate Interiors First Street Gallery, New York, New York
Contemporary Charleston Gibbes Museum of Art, Charleston, South Carolina;
traveling exhibition: Anderson, S.C.; Knoxville, Tenn.; Columbia, S.C.
1990
Salon 1990 New York Academy of Art, New York, NY
RESIDENCIES
2013
Cill Rialaig Residency program, Co. Kerry Ireland
2012
Shanghai University, Shanghai, China
2010
Cill Rialaig Residency program, Co. Kerry Ireland
2008
Anchor Graphics at Columbia College, Chicago
2000
MacDowell Colony summer residency May/June
1998
Ragdale Foundation/NEA Fellowship and summer residency
1991
Roswell Art Center Residency
AWARDS/ GRANTS
2011
New York Academy of Art Travel Stipend to Der Spinneri, Leipzig, Germany
2007
New York Foundation for the Arts Fellowship for works on paper
2002
Pollack Krasner Grant to fund ongoing woodcut book
1996
Artists Fellowship New Hampshire State Council on the Arts
1994
Basil Alkazzi Award
Artists Fellowship New Hampshire State Council on the Arts
1993
Fulbright Extension Grant
1992
Miguel Vinciguerra Fulbright Fellowship
Fulbright Travel Grant
1991
Roswell Art Center Residency Grant
1989
Elizabeth Canfield Hicks Award, Yale University School of Art