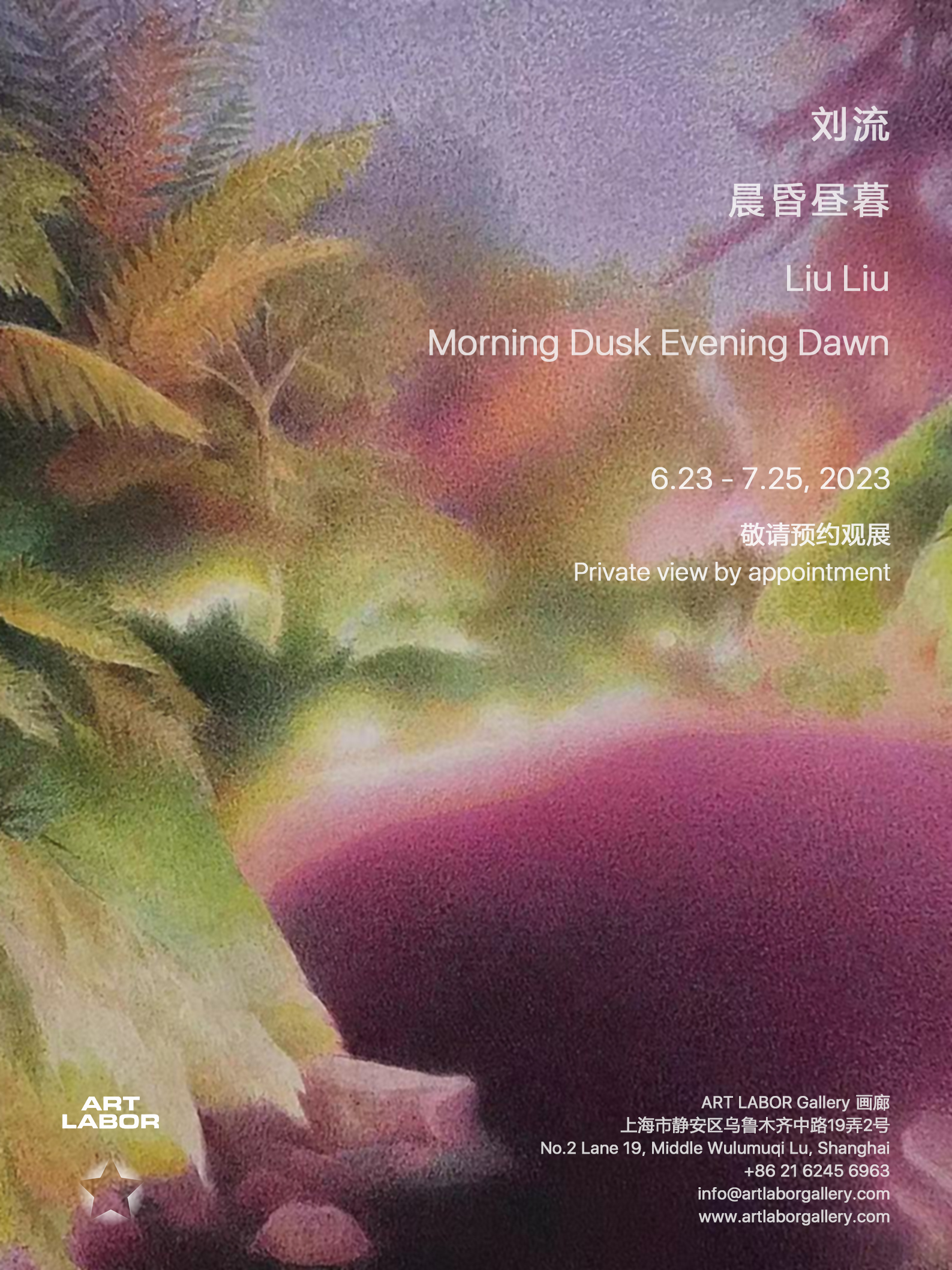 Liu Liu: Morning Dusk Evening Dawn
June 23, 2023 - July 25, 2023
ART LABOR Gallery is pleased to present Liu Liu's solo exhibition "Morning Dusk Evening Dawn", which will be held from June 23rd to July 25th, 2023.
For this exhibition Liu Liu is presenting new paintings on canvas. In the past few years, Liu Liu's artistic practice has been entirely focused on watercolor on paper, utilizing the medium to its fullest extent with a warm and delicate texture uniquely his own. Over the past two years, he has begun experimenting on canvas, attempting to apply the same unique watercolor techniques on canvas while preserving the visual effects of watercolor.
In Liu Liu's solo exhibition "Days of Haze" in 2022, the artist conveyed a rhythmic sense of beauty derived from the external attributes of all things through his work. In this exhibition, "Morning Dusk Evening Dawn" the artist focuses on exploring the texture and aesthetic beauty of light, as well as the emotional quality of this illumination, achieving a delicate balance and captivating atmosphere in landscape and interior scenes under various subtle lighting modes.
All the while, the artist continues to explore the inner spirituality of painting. Essentially, the process of painting is a spiritual experiment that expands through boundless imagination. The distinction between the outside world and the spiritual world is to some extent blurred. The human mind has characteristics that cannot be precisely described by language, just as we cannot fully describe the details of a painting using words and thereby capture the essence of aesthetic inspiration. It is precisely because language and the mind are somewhat irreplaceable that painting has its inherent meaning.
Liu Liu was born in Shenyang in 1990. He graduated with a Masters from the Printmaking Department of Beijing's Central Academy of Fine Arts (CAFA) in 2018. His recent solo exhibitions include Morning Dusk Evening Dawn, ART LABOR Gallery, Shanghai (2023); Days of Haze, ART LABOR Gallery, Shanghai (2022); Light, Air and Emotion, FlipPOP, Shanghai (2020). His recent group exhibitions include Worlds on Paper II, ART LABOR Gallery, Shanghai (2023); First Light, ART LABOR Gallery, Shanghai (2022); Nomination Exhibition of Watercolor Paintings of Chinese Young Artists, Qingdao Art Museum (2021); Worlds on Paper, ART LABOR Gallery, Shanghai. He has been collected by Qingdao Art Museum and numerous private collectors around the world.